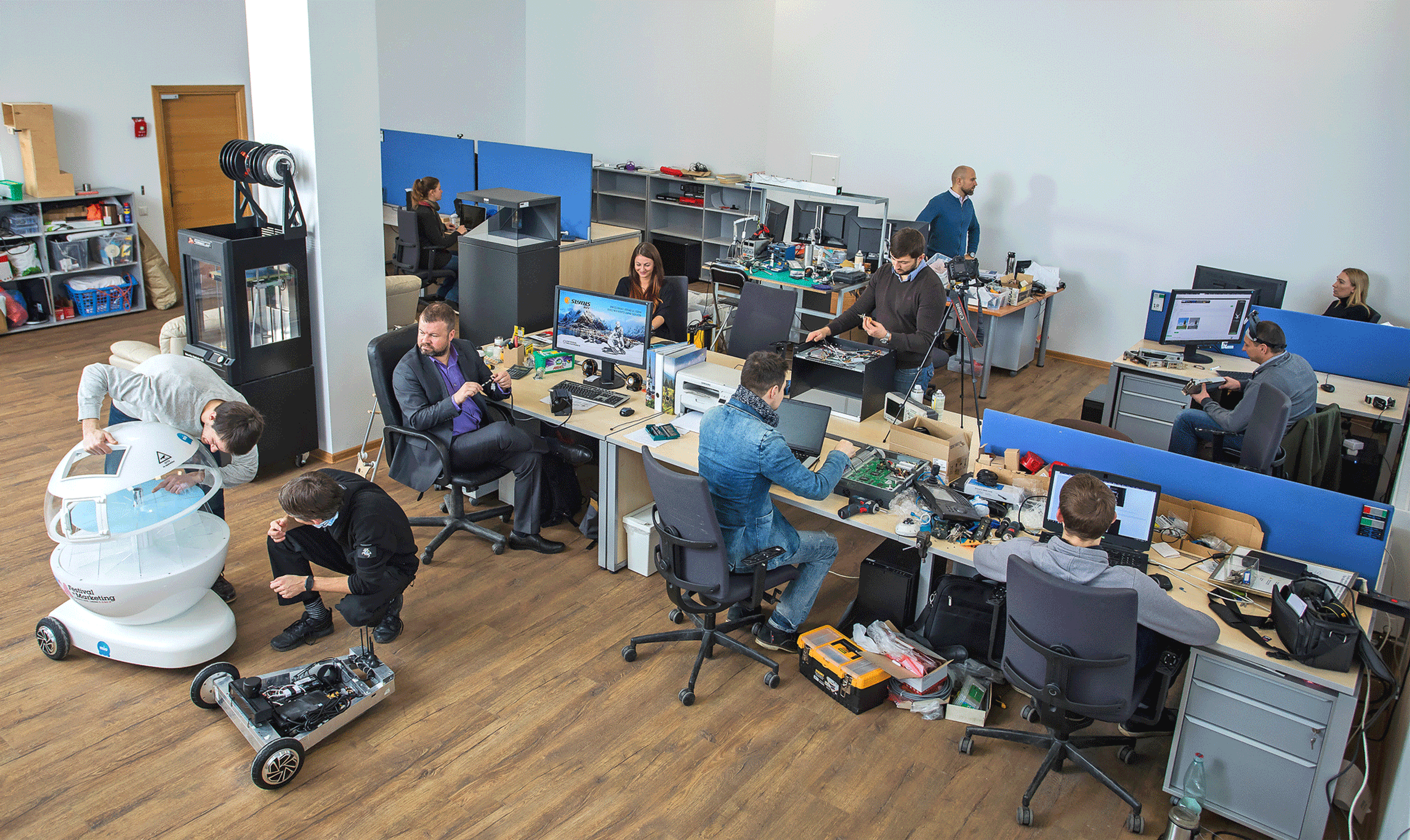 Our approach

BHV hosts and incubates Lithuanian, CEE and CIS startups throughout the differing elemental stages of their evolution (mostly from pre-seed to A). We are highly focused on the technological and innovational industries, primarily; hardware, security, blockchain, AI, enterprise software, and fintech, among others.
Our residents are Mio (mobile kiosk), Cujo (smart firewall), Esteq (DDOS protection), Kurokesu (cameras and motion systems), Slydis (electric tracked, modular, folding, all-terrain vehicle), Lympo (find yourself a personal trainer) and several others. For more information about our residents, contact Sandra.
Do we fit each other?

First of all, you and your team are involved in solving a problem which already exists. You are actively engaged in researching and resolving this problem and others which may emerge in the process.

You have:
– The MVP/prototype or product. We don't invest our time and money in ideas. Your traction is also important. How many users/customers do you have at present? How often do they use your product? What do they have to say about it?

– The Team. The team is ambitious, technically talented, and possesses a deep knowledge of the product. We expect you to be open-minded and ready to accept a mentor's advice and assistance. And, of course, the founders and key team members are should be experienced directly within the industry which the startup represents.
– Clear monetisation strategy, or paying users/customers. If your customers are not ready to pay for your product, they don't need it.
– User acquisition strategy, or, at least, some thoughts about it.
– Clear understanding of your market and your target audience.
– Clear equity scheme for co-founders. Before you start working with us, you should have decided and agreed upon which elements of the established equity belong to each of your key members. However, it's possible that your entity may be not incorporated; BHV can readily solve this issue for you within Lithuania.

– You must be prepared for incorporation in Lithuania and the co-founders must be willing to join us in Vilnius (we may cover a significant part of the relocation costs).
– And finally, as we are part of the global marketplace, the ability to speak English by at least one of the founders is highly recommended. (However, we also speak Lithuanian, along with some Russian, German and Spanish).
If you fit us, we offer:

– Growth throughout the EU market, mentorship, and the expertise of market leaders.
– New partnerships and customers in the EU and USA.
– Equity based (up to 10%) funding up to 350K Euro (co-funding round with our partner may be up to 3 times higher).
– Participation in different international tech events worldwide, as a part of our pipeline.
– Your own co-working or office space, co-living opportunities, facilities for product prototyping (for hardware startups).
– PR and marketing support in the EU.
– Support with investor-relations at throughout all stages.


How it works?
We are both eager and passionate to support, and co-create, companies which can uncover industry problems and become market leaders through solving these problems. We have a strong advisory team, a deep pool of investors, and the vitally useful technical facilities which can assist in making it all happen.
Fill in the application form. Make sure that your pitch deck is sound and well prepared. Check here how to create a perfect pitch deck.
We will contact you within 48 hours via e-mail to arrange a one-to-one call, to request additional information, or to reject the application.
Video call by Skype/hangouts, or whatever works best for you. We would like to talk in person with co-founders and learn more about you and your team.
Some work on your startup assessment. This may take up to two weeks, during which time we may request additional information about your startup.
Our final decision. If all goes well up to this point, and both parties feel positive regarding the arrangements, let's meet in person and begin the paperwork.
You relocate to our incubator where we can offer you office space, mentorship on business development, user acquisition, marketing, tech, PR, investments, and even, co-living. Let's grow your project together.
After your startup reaches the KPI and turns into a working business, we can assist you with series A investments from our partners (private equity funds based in EU/USA).
For more information, please, contact us via the
application form
.
How to apply?

There are following membership options:
– Full membership plus pre-seed investments up to 150K euro (equity based).
– Full membership plus seed investments up to 350K euro (equity based).
– Remote membership (equity or monthly fee).
– Full membership (non-equity, monthly fee).
You may become a full-member or virtual participant. A full-member enjoys all the benefits of working with us and is located in the BHV headquarters. For startups located in other countries, BHV offers a virtual membership program with access to our investors network, partner proposals, remote mentorship sessions, participation in events, along with other highly valuable benefits.
We are mostly concentrated on tech and innovation startups, however, we also examine other opportunities from other spheres of enterprise. So, please feel free to contact us if you feel that we may be a perfect match for each other, even if your industry is not directly associated with our main areas of focus.
For more information, please, contact us via the
application form.
Why Vilnius and Lithuania?

According to the Doing Business 2018 World bank report, Lithuania is ranked 16th in the world as possessing a unique business-friendly atmosphere. There are literally thousands of international people - from all around the world - working in startup, venture, and internet industry companies here in Lithuania. The vast majority of these are mostly concentrated in the small, but cozy capital, Vilnius. Lithuania combines all the advantages of a small territory, and features startup-friendly laws and talented, friendly professionals from all over the world with whom to communicate and do business.


It is no secret that recently, private venture capital from Western Europe, Scandinavia, the UK, and USA have all actively begun examining the Baltic states as a hugely promising and rapidly growing tech region. Many of these funds are already engaged in coming to the Baltics, or establishing partnerships with some of the biggest local market players; such as BHV.
Beautiful Vilnius city is dynamically international, friendly and safe for foreigners, meaning that almost everyone speaks English. Russian is also quite often heard being spoken on the streets and throughout the city.
BHV partners with governmental agencies, such as
Startup Lithuania
and
Go Vilnius
, who are responsible for assisting new startups during relocation and with any
startup visa
issues which may arise. With their help, you will easily get the residence permit for your startup team and their families, and a new company can be launched in just a couple of days.
Ready to join us?
Please fill in the application form.